Todd Brunengraber
, with the help of his trusty Schnauzer,
Bubba
(and a few others), founded the
TearJerkers
in
1997
. What began as a fairly informal group of hot-rodders and camping enthusiasts soon started to grow. Originally organizing through the now-defunct
Yahoo Chat Groups
, Todd and the rest of the bunch got together quite a bit for hot-rod shows, often camping out for the weekend. Over the course of that first decade, more and more people discovered the group, and chapters were beginning to form and spread.
In early 2007, 10 years after inception, the club was out-growing the Yahoo Chat Groups. That is when the
TearJerkers
made the important decision to uproot everyone and move to their phpBB3-based discussion forum. For 13 years we called that forum home! This forum had various improvements over the years, adding many new features, but it generally stayed the same. Over those years, the internet and technology has flourished, with social media giants growing and rapidly developing new features to draw in new members. The
Tearjerkers
has recognized the trends, acknowledged the need to keep up, and decided that its once again time to take a leap of faith and uproot.
Todd's plan
(ultimately the
TearJerker's
plan) is to always have our own corner of the internet, away from all the hustle and bustle of those social media giants and the drama that they often bring. With this in mind, we've looked at the options, and have been working on a new forum to take us into the next decade.
Our new forum, here at
https://forum.tearjerkers.net
, is just that - a brand new forum that we will call home. There aren't many posts...
yet
. Unfortunately we had to leave all the posts from our old forum behind. There will be bugs to work out along the way. New features will be added, and it will evolve as we have.
There are features that some may recognize from Facebook, such as notifications at the top of the page, and the ability to 'like' posts. While it is not Facebook, we've been able to integrate a Facebook Login feature, that lets you register and then login using your Facebook credentials. This does not give us access to anything other than your name and email address, but it does make it easier for the user to log in.
After registration, you will now be able to log-in with
either
your username or email address (or Facebook Log-In), and recovering a forgotten password is as easy as a few clicks. Private messages display as conversations, and formatting your text in posts is a lot easier. Sharing pictures to a post is a snap, and those pictures also get added to a "Posted Photos" album on your profile page. Important notices will appear at the top of the homepage , and the Sign-up/Login button is in the top right corner (both highlighted in yellow below).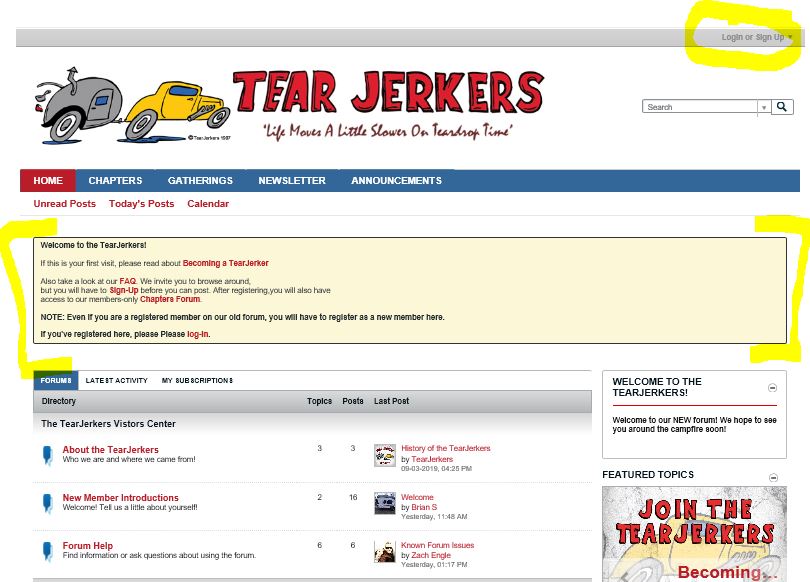 We are all very excited about this next chapter in book of the TearJerkers! For our members that have been with us for years, there will be a learning curve, as with anything new. For our future members, we look forward to welcoming you with open arms!
If you do have any questions, look in the 'Forum Help' section on the home page, or something just doesn't seem to be working right please reach out!
Our old forum will remain online for a short time, but discussion will soon be locked to prevent anyone from being left behind.
The old forum will become archived, and only accessible by a direct link.
Thank you all for your patience during this transition! Now, lets get this over with so we can focus on camping and having fun!



Cheers to the next 20 years!!
Sincerely,

The TearJerkers
And whatever you do, don't get caught snoozing!! Get registered and start camping with a Chapter near you!